Start Dealing Out the Fun Today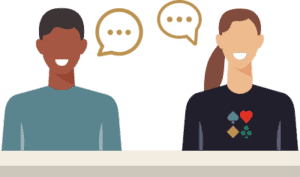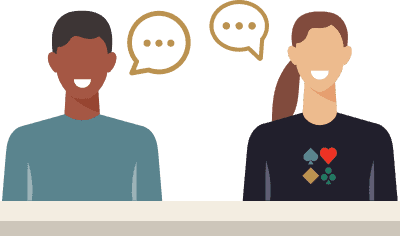 Start a conversation with one of our team members via phone, email, or Zoom.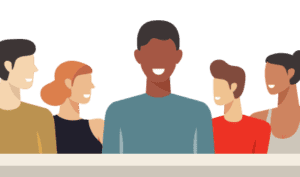 Not sure what to expect?  Grab a private demo with out team and see for yourself.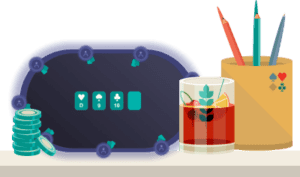 If your ready to book we're ready to go.  Scroll down for Instant Booking.
Let's Get Started
We 're here to give you all the information you need to start planning your next event. 
Give us a call
Talk to a human. Ask questions, get answers.
(310) 402-3838
or
(877) PLAY PKR    (877) 752-9757  
Send us a message
We'll be back in touch within one business day. Guaranteed.
General Contact Form
"*" indicates required fields
Schedule a Meeting
Schedule a phone call with us to discuss the details of your event.
What Our Clients Think...

"We've done a lot of virtual corporate events (some good, some not so good...), and Poker People is the BEST to work with, hands down. From the planning process, to the actual event, they are professional, fun, and make everything a breeze. We've booked two tournaments with them so far and will be back for more!"
"We recently hosted poker tournament as a social event for women entrepreneurs. Our founders and guests had a blast. They appreciated the opening lessons and had a great time playing and getting to know one another and our guests. The Poker People back of the house team made planning the event a breeze and the dealers were personable, professional, and great company. We will use the Poker People for future events."
"We have used The Poker People several times for company games and the experience was amazing. The dealers always make it fun, the platform is great, and the great customer service is refreshing.

We highly recommend The Poker People - they'll take good care of you."
"Had an amazing and seamless experience with The Poker People's team. Everything went smooth and communicating with them was easy and fast.

We had a virtual company charity poker game with 20 people, from beginning to end everyone enjoyed it. No hiccups and everyone we interacted with from their team was nice, friendly and very professional. I would definitely recommend them and we look forward to using their services and platform again in the near future."
"We did our second team virtual poker tournament with TPP and it's always a hit!  The dealers are really good teachers and move the game along quickly.  Most of our new players (never played before) make it through the end of the tournament and everyone is engaged and entertained.  We will booking with them again soon, the experienced players want to win their 'money' and their pride back, LOL!"
"My company hired the Poker People to conduct a virtual poker event and we LOVED it! I got so many comments from my coworkers after this event about how much fun it was and how we should do it again next time! We have tried other types of virtual events, but this has BY FAR been the most fun! I strongly encourage you if you're looking for a fun virtual event for your coworkers - hire them! Whether your team loves poker or has never played, I promise you everyone will have a blast!"