You've Got Questions - We've Got Answers.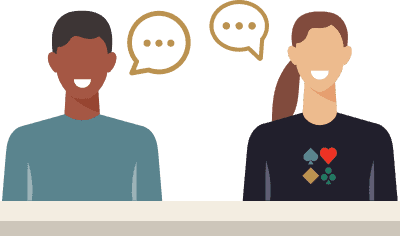 Your Guide to Virtual Team Building and More
How does online team building work?  Is this a good virtual game for executives?  Is this part of employee engagement? 
Contact us today or check out the answers below. 
Can you tell me a little more about online team building games?
We built our very own poker website just for team building and networking events.  Employees from around the country or even around the world come together and play for fun and bragging rights.  We pair the game with a video conferencing call so you can see your tablemates and work on your poker face.  We even have a live dealer on each table to ensure that the game flows smoothly.  We can run events for just a few people up to 250 players.
---
My company has offices in a different time zone.  Is that an issue?
No problem.  We have clients in London, Sydney, South Africa and plenty in between.  Our dealers don't need much sleep.  (It's part of their nature as poker players.)
---
Is this good for online networking events?
Yes. Would your sales team like the opportunity to spend time with potential customers in a fun and friendly structured environment? How about a space where they can relax and enjoy a game AND talk about your awesome product?  Yeah, we thought so too.
---
Can I customize the look of the virtual poker tables?
Yes.  We will put your company logo right in the center of the poker "felt."  If you have sponsors or multiple companies under one roof we can put different logos on different tables.  Go nuts! Buyout the whole site and we will put your logo all over, including on the playing cards!
---
How much lead time do you need to book an online team building game?
Most clients book a month or two out, but we have some that plan events quarterly.  We do sell out, so if you have a date in mind, it is best to get on our schedule.  Thursdays are very popular.
---
What technology is involved?
Our platform is browser based so there is nothing to download.  Players see each other on Zoom and play poker on a second browser window.  The easiest way is just to have two windows open next to each other.  We prefer Zoom but can work on WebEx, Teams and Google Meet.  There is nothing to download and players are not playing on a public site.  We own the platform, and it is only available to our customers at their scheduled time.
---
What is your privacy policy?
Players enter their names and email addresses for the purpose of creating their account on our private platform.  (They may choose to use an alias if they prefer.)  However, we do not keep this information.  We delete all accounts weekly and player data is never shared, stored or sold. 
---
Can I see pictures or a video on how it works?
Sure.  Send us a quote request and one of our sales team will reach out to you. They can show you pictures from past event and even run a little demo for you. No pressure.
Are you running in-person games right now?
Yes, we are conducting in-person charity fundraisers.  Nonprofits are looking for ways to reengage their audience and poker is coming back.  We are able to accommodated up to 200 players.
---
Is charity poker legal in California?
Yes. Nonprofits must apply for a permit through the State to hold an event and follow some guidelines.  It sounds daunting, but it's really not that difficult.  We can walk you through the process.  To be eligible for a permit in California, your nonprofit must have been in existence for three years or longer.  The permit fee is $100.  There are some other restrictions on prizes and how we conduct the tournament but we can explain that over the phone. There is a link to the Department of Justice information below if you want to read up.
---
Prize restrictions? I have a sponsor who will donate a new car. Can I use that as a prize?
In California, no.  The law caps the value of any individual prize at $500 and the total prize pool at $5,000.
---
That is a stupid rule.
Yes, we agree.
---
Can I run my fundraiser online?
The law varies from state to state when it comes to using online poker for a fundraiser. As a "play money" site we are not at risk but our non-profit clients would are so we advise that you check the rules in your state first. If you are in California, or other highly restrictive states we advise you to host Donor Appreciation Games that are completely free to participate in and don't have prizes. They are simply entertainment that fosters good will and (hopefully) future support.
---
Are casino night fundraisers legal?  
Many of the casino fundraisers you see advertised are, in fact, not technically legal.  To use gambling for fundraising you need a permit.  The only permit available in California excludes games like blackjack, craps, and roulette because there is a "house" representation.  However, we do offer many poker-based games that are covered by the permit and can be used for fundraising purposes.
How does in-person team building work?
We bring the game to you with tables and professional dealers delivered to your workspace. We will teach you everything you need to know for an enjoyable round of poker and camaraderie.  Because we randomly seat players, it breaks up the usual social cliques and allows your folks to have a good time with their co-workers in a friendly environment.  It is a similar experience to our online team building games, just in person.
---
Can I put my company logo on the cards or chips?
Sure can.  We have lots of cool options to brand your event.  Everything from drink coaster and dealer buttons to chips and cards. We can even put your logo right on the poker felt.
---
How far in advance do you sell out?
That depends on the size of your event, but we recommend setting a date about 3 months in advance.  We are not a huge company, and we use all our own staff, so we do sell out on some dates.  It makes more sense to book early with us than to go with someone else who will just grab random last-minute dealers from Craig's List. (Yep, that happens.)
How does a home game work?
We will provide you with a dealer, a poker table, and all the expertise you need.  We can run cash games or tournaments.  We can even run mixed games and help you figure out the best structure to meet your needs.  *Please note we do not take a rake or any percentage out of the pot.  That is not allowed under California law.
---
Can I have craps and roulette at my company or house party?
Sorry, we only offer poker and poker-based games.
---
Can my kids play?
Sure, we allow for players as young as 18. We can play for fun at birthday parties or any other excuse, as long as it is not part of a charity event.  Players there must be 21 and over.
---
What does your Production Consulting include?
Our experienced staff has years of casino and general gambling knowledge under their belts. (And a little bit up their sleeves.)  We have consulted on books, commercials, tv shows and major motion pictures.  If you want to make sure your story is authentic, then you need someone who knows the game.  We can help you with the script, casting, hand doubling, and even be with you on set to make sure everything is perfect.
Yes, we are permitted in both California and Nevada for charity fundraisers. Our games online are just for bragging right. Players are prohibited from playing for real money.
What does The Poker People do?
Thanks for asking.  We provide event planning, equipment and professional dealers for live and online poker games.  We run in-person home games, charity poker tournaments and team building events.  We also offer virtual team building on our custom-built poker platform.  It's pretty awesome.
---
Do all your games come with dealers?
Yes, they do.  Even our virtual poker events have a live dealer at each table and a Tournament Director.  Our staff are all in-house employees and well trained to make sure your game experience is fantastic.
Of course!  You can submit a quote request or call us directly.  One of our sales and scheduling team members will be happy to help.