An Executive Experience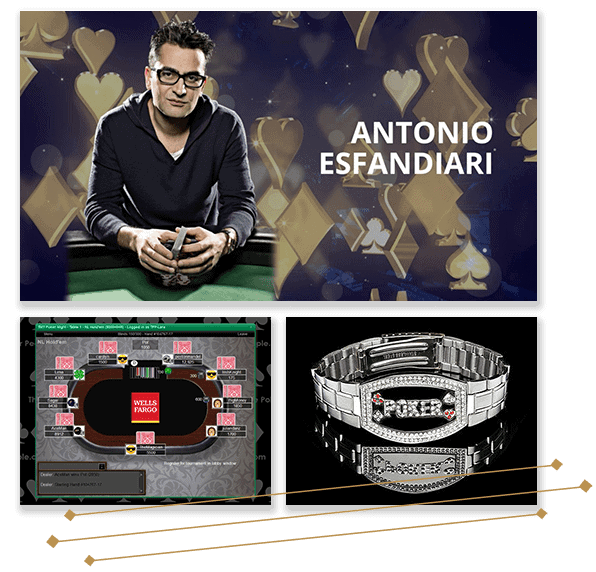 Are you looking for a truly unique team building option?  Something completely different for those VIP's who need a special experience?  How about playing poker against pro Antonio Esfandiari.  He won thirty million dollars in one tournament.  Think your CEO can beat him?
Add to the game experience with a Q&A on how poker and business are intertwined.  Full time pro Matt Stout can take your team on a deep dive into equity, ROI, and finding value where others don't.
Feeling like you need to really wow the audience?   We have run a lot of Hollywood home games.  We can invite some of our friends like Cheryl Hines or Jason Alexander to join your game.

Every virtual poker event experience is paired with video conferencing.  Games are private and available only to your invited guests.  Each table has its own breakout room where players can see their opponents in real-time.  Guests simply join the video call and the Tournament staff will guide them to our private poker site. There is nothing to download and we don't save any of your players' data.
Our site is customizable for your event.  We can add your logos and even your branding colors for a completely crafted experience.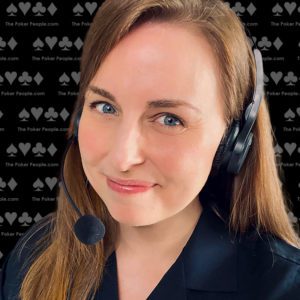 Dealers Make the Difference
Our goal is to curate your entire event.  From the first planning sessions with your Event Manager to the last hand of the game, we are focused on delivering a quality team building experience.  Our games always start off with poker lessons and there are plenty of cheat sheets to go around.  The Tournament Directors keep everything running smoothly and the dealers are there to not only run the game but to answer questions, teach, and make sure everyone enjoys themselves.
We are proud of our staff and grateful that they share their time and talents with us.  Poker is a people game and our dealers truly make the difference.
THE BEST! Kari and her team are simply amazing. They are professional, fun, and organized. They take all the stress away.
-Jeremy Smith
Had an amazing and seamless experience with The Poker People's team. Everything went smooth and communicating with them was easy and fast.
No hiccups and everyone we interacted with from their team was nice, friendly and very professional. I would definitely recommend them and we look forward to using their services and platform again in the near future.
- SAB Capital
Our office hired The Poker People to host a virtual poker tournament while we were all working from home during COVID. The event went off without a hitch and everyone had a blast! The dealers and tournament director were all amazing and made sure that even the newer players felt comfortable at the table. I would definitely recommend their services for office team-building events.
- Stuart Young
My firm had an absolutely wonderful experience working with The Poker People. We primarily worked with Lara and Pamela, who were extremely professional, kind, and accommodating. They helped us with every tweak we wanted to make and were always ready to answer with "we'll take care of that for you" whenever we thought something would be too complicated. Questions were always responded to swiftly and considering my firm is based on the East Coast, you'd think the time difference would create a communication lapse, but there never was. The event ran smoothly and all of my colleagues thoroughly enjoyed themselves! Any of our tech-challenged employees were assisted by the experienced Poker People Team and every single person was unbelievably kind and energizing. We can't wait to work with The Poker People again when we participate in our Champions tournament later this month!
- Khali Jones
A pleasure to work with, start to finish! We've done a lot of virtual corporate events (some good, some not so good...), and Poker People is the BEST to work with, hands down. From the planning process, to the actual event, they are professional, fun, and make everything a breeze. We've booked two tournaments with them so far and will be back for more!
- Jessica Apfel Ruetz
We recently hosted poker tournament as a social event for women entrepreneurs. Our founders and guests had a blast. They appreciated the opening lessons and had a great time playing and getting to know one another and our guests. The Poker People back of the house team made planning the event a breeze and the dealers were personable, professional, and great company. We will use the Poker People for future events.
- Tanea Foglia
We have used The Poker People several times for company games and the experience was amazing. The dealers always make it fun, the platform is great, and the great customer service is refreshing.

We highly recommend The Poker People - they'll take good care of you.
- Matthew Jackson
I hired the Poker People for a company event and the customer service was above and beyond. They were able to help players who have never played before learn the game, coach them during the game. Everyone had such a good time. One of our best virtual happy hours!
- Erika
Great experience with poker people. We threw my brother a virtual poker night with friends and family for his 40th bday. The company was very accommodating and the dealer Fitz had a wonderful personality and made the evening fun for a group of all ages! They also had excellent communication. Would recommend to anyone looking to host a unique virtual event.. we had a blast!
- Sarika Gupta
The Poker People is a wonderful group and they run their business like a well-oiled machine. I serve on the Board of Directors for a local Young Lawyers Division in Florida and we utilized TPP for a free virtual charity poker event. The event was extremely well run and everyone had a blast. I would highly recommend.
- Matt Borello