Dealing out the fun: Building camaraderie through card games
Are you looking for team building card games to keep your employees connected? Well dear reader, look no further. Not only will we give you 16 great online team card games, but we will also tell you why they are great team building options. And as a bonus, we will reveal the perfect online team building card game. We don't just mean playing with a standard deck of 52 cards either. For our purposes, "Card Games" includes poker of course, but also games like Yahtzee, Scattergories, and Code Names.

What makes team building card games different?
Some of my fondest childhood memories are of my cousins and I playing gin rummy with our grandma at her kitchen table. Those card games came with plenty of laughs, snacks, and good times. Also, we cheated. Grandma never had a chance.
There are a lot of benefits to online escape rooms or trivia games, and if you need suggestions on that type of game check out our Complete Guide from A to Z. Playing online team card games offers an experience that is unique because the pace of play depends on the participants. You can't pause to tell a joke in a timed game like trivia or share a snack recipe when everyone is focused on escaping the murder zombies. And that's the point. When you are using card games as virtual team building, the goal is not the game, it is the experience that happens organically during the game. Virtual team building card games are different because they:
Adjust the Pace to You – there is time to get to the punchline and enjoy the laugh before you take your turn.
Allow for Individual Expression – games have a structure, but how you choose to play them is up to you.
Provide Equal Footing – each player faces the same decision during their turn no matter what position they hold in the company. Depending on the game, you might bet or bluff, draw a card, or roll the dice.
The biggest plus for online team card games is that they have a balance of luck and skill. The best virtual card games create a level playing field for everyone to participate in. This mix between structure and play is what makes a simple card game into a valuable team building activity.

Why bother with virtual team building?
Back in the olden days (you know, like three years ago), people connected over the water cooler. They talked about family life, pets, vacation, and just about anything that came to mind. It was easy to find common ground because everyone occupied common space. Virtual team building now gives people the opportunity to build those same kinds of connections from the comfort of their own homes.
Working from home has a lot of perks – there is no commute, your pets are there, and you can eat toast off a paper towel anytime you want. But there is a downside. Without those "water cooler" conversations, work becomes, well, just work. Tasks are easier with friends. Emails are more fun between people who feel comfortable cracking a joke. Hours-long video conference calls are so much better with people you like. So how do you build those bonds with your online coworkers? By playing team building card games of course! The simple act of playing card games together:
Reduces isolation – Spending time with colleagues talking about non-work topics helps build personal connections.
Strengthens relationships – Developing banter between people, laughing at inside jokes, and having shared experiences creates real friendships.
Improves communication – Work conversations can be difficult, technical, and sometimes challenging. Speaking to someone with whom you already have a rapport makes those conversations easier.
Virtual team building benefits both the employee and the company. There is a wealth of documentation on how employees with regular team building events are more productive and have less turnover. If you are a manager looking for guidance on how to implement a team building program, check out our Guide to Virtual Team Building Best Practices.

Do online team card games make someone a better worker?
Hosting regular online team building games gives everyone the opportunity to work on their interpersonal skills. Communication through gameplay is wired into our DNA. Kids on the playground learn to manage emotions and build relationships through games. The workplace is no different for big kids. Workers perform best when they have a high level of emotional security. Building their confidence within their team can only serve to improve the work environment.
When hosting a team-building event, it is a good idea to follow up afterward and find out what participants did and didn't enjoy about the experience. That feedback will not only show the impact of the game, but can also reveal weaknesses in overall team cohesion. The more teams play together the better because virtual card games allow players to develop soft skills like:
Problem-Solving – individuals must plan their own moves and anticipate what their opponents might do in response.
Collaboration – in some virtual card games, teams must work together towards a common goal.
Leadership Development – games allow for different people to stand up and take charge, no matter what their role in the company.
It can feel like everything in the workplace is time sensitive. Deadlines loom, projects are due, and your email inbox looks like a waterfall. Team building card games offer a unique opportunity to slow down. They are a low-stakes way to take a break from work and just be humans existing in the same space at the same time.

How do I choose the best virtual team building card games for my group?
There are several factors that go into selecting the right online team building card game. We have a handy table below that will help. The size of the group, the amount of time available to play, and the complexity of the game are all important considerations.
One of the key factors is how much effort the organizer can put into planning. Like most things in life, the final product is a direct reflection of the work it took to create. If a game is for a small team of less than ten, almost any game will work. Groups of ten to twenty can be accommodated by adding breakout rooms and duplicating the game for each group. For groups over thirty the organizer might want to hire a professional. This can be a good investment because the professional host is trained to make the most of the time available to play. When deciding what game you choose, ask yourself these questions:
Is it random? Break up established social cliques by assigning roles, seats, or breakout rooms randomly. People gravitate to who they know, so choosing teams will only reinforce established norms.
Is it hard to learn/teach? Complicated games might require sending out rules or how-to videos first. That doesn't mean you should not choose a complex game, just that you should help your team prepare or consider a professional host.
Does it require downloading an app? Adding software to a work computer might be against company policy.
Should you hire a pro? Virtual team building vendors can handle hundreds of players and provide hosts for a variety of games. This also allows you to add virtual team building to conventions or larger company meetings without getting in over your head.
Some games may require the extra step of cultural considerations. Exploding Kittens does not involve actual kittens or explosions, but the name can be challenging. The goal in Werewolf is to "kill villagers" but you can change that to "exile." Consider your audience when deciding on the best online team building card game for your group.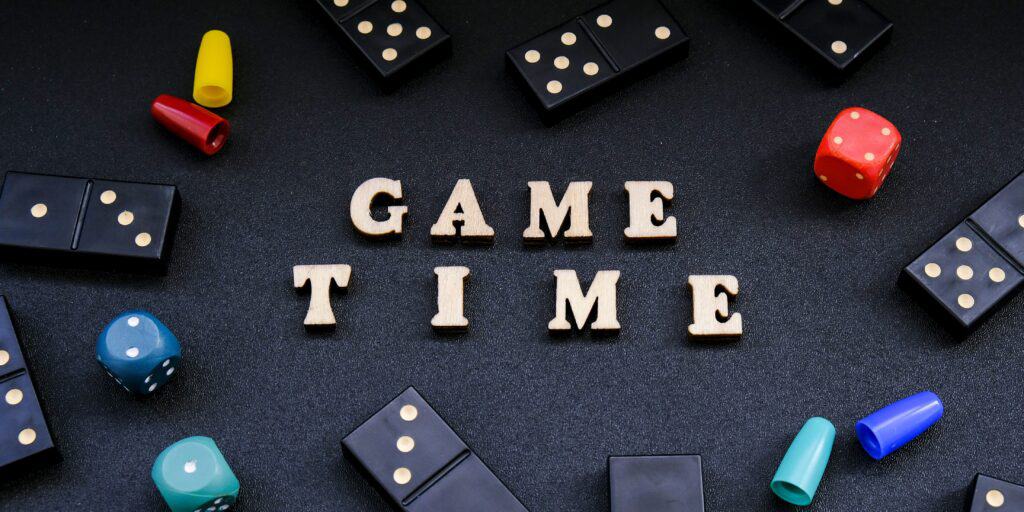 Check out the table below and see our recommendations for the 16 top team building card games. Whether you are using online team building card games for your employees, to host a networking event, or to reward your sales team, you can't go wrong with any of these awesome choices.
| | Great for Any Team Size | No Need to Download Anything | Can be Professionally Hosted | Good for Any Skill Level |
| --- | --- | --- | --- | --- |
| Uno | | | | |
| Exploding Kittens | | | | |
| Spades | | | | |
| Werewolf | | | | |
| Code Names | | | | |
| Yahtzee | | | | |
| Skip-Bo | | | | |
| Crazy 8's | | | | |
| Bingo | | | | |
| Memory | | | | |
| Scattergories | | | | |
| Heads-Up | | | | |
| Pictionary | | | | |
| Skyfall | | | | |
| Farkle | | | | |
| Texas Hold'em | | | | |
What is our choice for the best virtual team building card game? Texas Hold'em poker. It is great for groups of all sizes. It is browser-based with nothing to download and when you hire The Poker People to host, every table has its own breakout room with a live dealer leading the way.
FAQ Section
Whether this is your first game or your 50th, you probably have a few questions. Are they the ones below…?
What is the most important thing to consider when planning a virtual team building event?
The biggest factor is how much time the organizer can put into organizing the game.  Planning a poker game for 20 people can be as overwhelming as planning for 200 if you have other priorities.  Choose a game that is simple to implement or hire a pro to do it for you. 
Can team building be for my customers?
Yes!  Virtual team building is a catch-all term that covers any activity that you organize with the intention of letting people get to know each other organically.  Online card games are a great way to thank customers, network, and reward your sales team for a job well done.
Can you play more than one online card game?
Sure, you can play as many games as you can organize.  We are big believers in a regular schedule for virtual games.  Building trust is a process and hosting a monthly game reinforces not only the social time but demonstrates a company's commitment to providing a fun place to work.
You recommend poker, but it is hard to learn?
Not really.  The version of poker we host is Texas Hold'em, the game you see on TV the most.  Our games all come with a professional dealer to help.  Because each hand has the same steps over and over, there is a rhythm to it.  Players get into the flow very quickly.
GET IN TOUCH
For your next Poker Team Building Event